140145400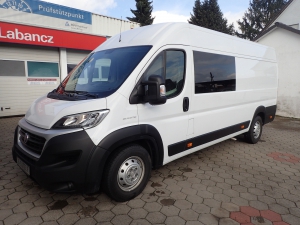 Internal number
XV011606191
Vehicle category
Box Truck High + Extended
Vehicle type
Pre Owned Vehicle
Transmission
Manual Transmission 6-speed
More information
Loading capacity

1.260 kg
Consumption
Environment badge
Green EPA Sticker
Equipment
110V Auxilliary Power Connector
ABS anti-blocking system
Accident-free
Automatic Climate Control
Auxiliary Heater
Cab
Center Arm Rest
Color monitor for navigation system
Country version Germany
Cruise Control
diesel exhaust particulate filter
Double Sleeper
Driver Airbag
Dual Passenger Seat
ESP
first hand
Fog Lights
Hitch
infrared power doorlocks system
Manufacturer guarantee
Navigation with a color monitor
Parking assistance camera
Partition Panel/Wall
Plus Additional Features
Power Passenger Side Mirror
Power Steering
Power Windows (front)
Rear Step
Rear View Video Camera
Sleeping Berth
Utility Shelves
Wood Floor
Wood Trim
Note
Neuwertiges Fzg. mit über 23.000, - Euro Preisvorteil. Z.T. mit Wohmo Ausstattung, Sonnenjaolisen. AHK 3 to.mit Trittstufen, Telefonfreisprecheinrichtung, Standheizung ab Werk+ IR Fernbedienung. Deutsches Auto mit 4 Jahre Garantie. Auch für WOMO Umbau geeignet.Tadelloser Zustand, er wurde nur privat genutzt. Wegen Geschäftsaufgabe jetzt zum Sonderpreis abzugeben !
* More information about the official fuel consumption and official specific CO2 emissions of new cars can be found in the guide on fuel consumption and CO2 emissions of new cars", which is available free of charge at all sales outlets and at the "Deutsche Automobil Treuhand GmbH" at www.dat.de
Data protection notice
To process your request through webmobil24.com and service providers commissioned by webmobil24.com, your above-mentioned personal data is collected processed, transmitted or used, and - if required for executing or processing the inquiry - transmitted to companies associated with webmobil24.com, to service providers or a partner of webmobil24.com to be processed or used. If data is transferred to countries outside the EEA to the above-mentioned parties and processed there (e.g. for technical storage and processing by the authorised data processing service provider in the US), this is of course done in full compliance with applicable regulations for the protection of personal data. By submitting this form you agree that you may be contacted by e-mail for the above-mentioned purposes. If you do not want your data to be used for the above-mentioned purposes, please contact the above-mentioned supplier.
Sell ââgood pictures vehicles: 36 XXL photos, + slideshow and video on every vehicle possible.

The most important vehicle information at a glance.

Contact person can be used individually or generated from the data of the e-mail response system.

Quality management - Envkv or quality seal are uploaded automatically

Contact person can be used individually or generated from the data of the e-mail response system.

For lovers of detail: adjustment of all features possible.

The way to your dealership: That's how the customer always finds you!